As part of our WhySI campaign showcasing why Southern Illinois is a great place to live and work, we spoke with Nicki Rathert, owner of Wander Community Art Studio in DuQuoin, IL.
Nicki Rathert is a professional weaver, selling handwoven baby wraps, towels, and much more. When she decided to move her weaving business out of her cramped house and into a storefront on Du Quoin's Main Street, she looked around and knew that the idea had the potential to be something special. When Nicki brought fellow artist and educator Meg Smith on board to kickstart the art education outreach, Wander Community Art Studio was born. Today, the spot has blossomed into an art space where she not only creates her own woven work but also opens the doors to the community for exploration, celebration, education, and pure creative joy. Wander is a colorful, joyful, and inclusive space that welcomes artists of all ages to take part in learning, playing, and exuberant projects right in the heart of downtown Du Quoin.
Since opening in August 2021, the business has consistently offered a variety of popular events for children, all for free or low-cost to the community. This summer Wander was awarded a grant from the Southern Arts Fund to provide five weeks of summer art camp for children from the surrounding community. In addition to children's art outreach, Wander also hosts events for adults, including adults-only craft time (Wander After Dark), private parties, and much more. Over the last two years, Wander has become a focal point of the community, where anyone can come to create and have fun in a welcoming studio setting, right here in Southern Illinois.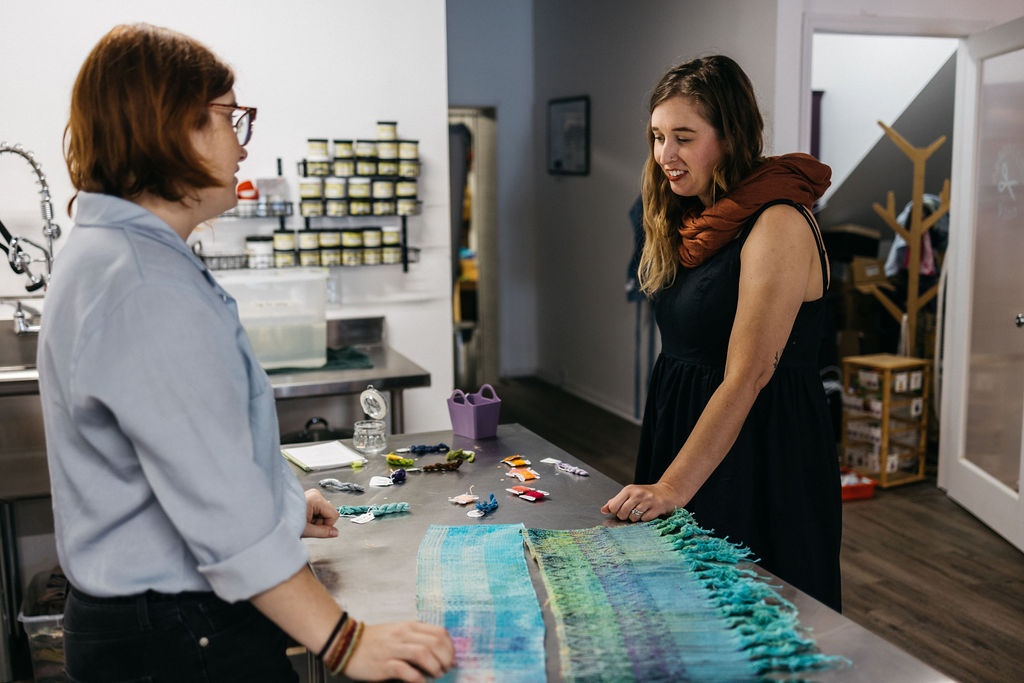 Q & A With Nicki Rathert
Why Southern Illinois?
One of the most important guiding principles I've had since dreaming about opening a small business is that you should "make the place you live into a place where you *want* to live". I moved to Southern Illinois for my husband's job and have been raising my children here for the last 10 years. I thought about what I wished to have in Du Quoin and a fun, vibrant space to be creative was at the top of the list. Combining my small business and art experience with Meg's own artistic talents and educational experience was the perfect way to bring a space like this to our small town.
What do you feel makes Southern Illinois a great place to live, work, and do business?
I have been continually blown away by the love and support we have received since opening Wander. They say you meet the nicest people in a small town, and it is really true. Our customers quickly become family, which brings so much joy to our workspace and spills over into the rest of our lives. We are able to thrive because of the safe, welcoming, and close-knit community here.
How important is it for a community to have an art space for children (and adults) to learn and express themselves?
Our motto at Wander is "Everyone is an Artist". Art gives us a chance to let go, relax, and slow down to process all the business and stress of our lives. One of our favorite things is seeing adults dive into a project with the kids they've brought to the studio. Many people have told us that it's the first time they've stopped doing something creative for years! We want to keep bringing that joy and freedom to everyone who stops by the studio. Art is essential for mental, physical, and emotional well-being. From regulating our nervous systems, to helping children with fine motor skills, the importance of making time for creative expression cannot be overstated. We do our very best to make art as fun and accessible as possible. Everyone deserves a chance to create!
WEBSITE: wander community art studio (wandercas.com)
FACEBOOK: Facebook