Southern Illinois Airport Authority (SIAA) projects provide long-term economic benefits to the region.
JACKSON COUNTY:  The Southern Illinois Airport Authority (SIAA), located on Airport Road in Murphysboro, IL, is expanding. Construction is underway for three new hangars, Hangar 2 and 11, and most recently, Hangar 10. Sources of funding for construction include a $3.75 million grant from the Economic Development Administration (EDA) and a $250,000 grant from the Delta Regional Authority (DRA) in addition to a low-interest loan from USDA, and another EDA grant in the amount of $3,32 million.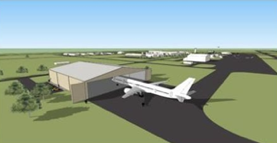 Upon completion, Hangar 11 will house Galaxy Aviation. Galaxy Aviation is a large airframe Maintenance, Repair, and Overhaul (MRO) company that disassembles/repairs large aircraft, such as the Boeing 737, and distributes parts worldwide. Hanger 2 will be home to Fixed Base Operator (FBO) Flightline. Flightline offers fuel, ground service (including towing, hangarage up to mid-size jets, power starts, catering, line servicing), flight training, car rental, crew car, aircraft rental, and a pilot shop. Construction will be complete by the end of April of 2021.
Currently, Galaxy Aviation shares Hangar 9 with two other MROs, Crucial Aviation and Code 1. With the new space, Galaxy Aviation plans to add forty (40) high-wage jobs with a typical salary of $53,000 and retain six (6) existing jobs. Galaxy's relocation will also give more room for Code 1 to expand within Hangar 9, allowing for growth to eighteen (18) jobs from their current 7 jobs. As for Crucial Aviation, they will also find themselves in another new hangar (future Hangar 10) funded by another EDA grant to be completed by July of 2021, and will be adding 63 new aviation maintenance jobs. The bulk of the new hires will be skilled aircraft mechanics derived from the SIU Aviation program. SIAA's history of maintaining and expanding successful organizations' supports regional economic development goals of increasing the total labor force and supplying high wage jobs to the area[i].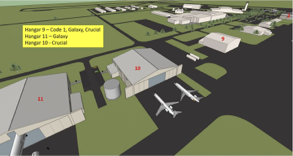 Since 1960, SIAA has housed Southern Illinois University's (SIU) nationally recognized aviation program. SIU Aviation offers a comprehensive aviation program, offering both undergraduate and graduate degree programs. "The addition of aero focused companies to the airfield provides training and employment opportunities for graduates of the SIU Aviation program," said Gary Shafer, the Airport's manager. The targeted aerospace addition increases the opportunity to retain SIU graduates in the southern Illinois region. 
Greater Egypt Regional Planning and Development Commission (Greater Egypt) provided technical and grant assistance for this and other projects at the Airport. Greater Egypt is an EDA designated Economic Development District, focused on strengthening the regional economy. "These projects serve as a model to bring Automotive industries on-site," added Cary Minnis, Executive Director of Greater Egypt, "locating near the SIU Tech Center moves these businesses to the front of the line to secure their workforce."